A second tab under Billing is labeled A/R Forms. The same tab appears under at-need and preneed although the available forms differ.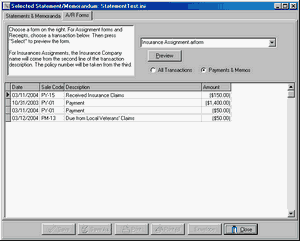 Here you may print Insurance Assignments and Contracts (Statements of Goods & Services).
When you first come to this tab, Insurance Assignment will be selected. The assignment form assumes you have entered a transaction in the amount to be assigned. Click on the appropriate transaction from the list and select Preview.
To print a Statement of Goods and Services, select that form from the pull down list.