Fields with a triangle on the right lead to Lists.

There are also fields with an ellipses at the right.

These fields lead not to Lists but to Names and Places.
When you click on the triangle, a list of appropriate entries for the field will appear. This list will also appear if you hold down the Alt Key and tap the Down Arrow Key, or once there is a list if you simply begin typing in the field.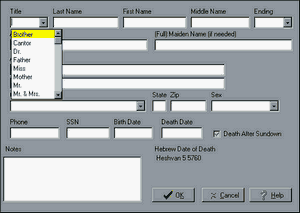 When the list appears, you may use your mouse or the arrow keys to highlight your selection and then hit Enter or double click on it to close the list and put your choice in the field.
Some lists are predefined. For example, The Sex field in the illustration contains only two predefined choices: Male or Female.
Other lists are User Defined. For example, the City list will initially be empty but entries will be automatically be added to the list as you use the program. If you right click on a user list field (click on it with your right hand mouse button), a dialog box will appear allowing you to maintain your list.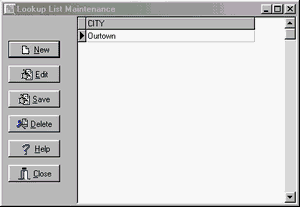 You can safely maintain your lists without worrying about messing up your older cases as the information from these lists is copied into each case. So if you have some cities, for example, in your lists that are far away from your funeral home, you may safely delete them without worrying about losing the city information in the cases for which those cities were entered.