Selecting Master List from the Verse Book leads you to this Window.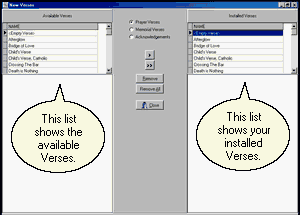 The Verse Book was created when you first installed the program. Since that time, you may have added your own custom verses or removed or modified some of the verses that were originally installed. You may have also installed updated versions of the program with new Verse Book files; however, that installation did not over-write your modifications. Instead, the latest version of the Verse Book was copied to a different location on your hard disk: the EmptyData Folder. The Master List displays the Verses from the EmptyData Folder on the left, and the Verses from the Data Folder on the right. Controls in the center allow you move Verses from the left to the right thereby making them available for use.
You can not have two verses with the same name so before you can add a Verse you may need to remove one. Controls in the center allow you to remove one Verse or All Verses. First use the radio buttons at the top of the center selection to choose to display Verses for Prayer Cards, Memorial Folders, or Acknowledgment Cards.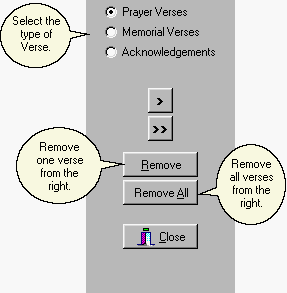 To remove all the installed verses to start over, click on Remove All. To remove a single verse from the list of installed verses, first click on the desired verse in the right hand list to highlight it and then click on Remove.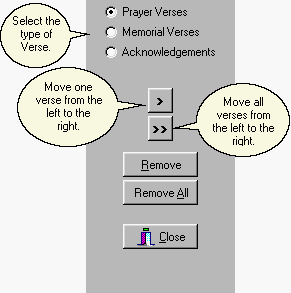 If you chose to remove all of the Verses from the right, you can replace them all from the left by clicking on the double arrow symbol (>>). To add a single verse, first click on it in the left hand list so that it is highlighted, and then click on the single arrow symbol (>).
You can use the Master List to accomplish several purposes. You might want to remove a custom verse you entered for a particular family. You might want to remove Spanish Verses if you do not serve that community. You might want to add a Verse that we have added after your original installation. You might want to remove the installed version of a Verse and reinstall our latest version of the same Verse. You might even want to reinstall the <Empty Verse> if you turned it into a custom verse before you learned how to add a new verse for that purpose.
Clicking on Close with return you to the Verse Book.