A/R PRO is for accounts receivable. This is where you enter the financial information for your at-need calls, and print bills, statements, and financial reports.
When you chose A/R Pro from the Main Menu, you will be taken to the Find a Funeral Window.
While a person may only have one Funeral, they may have more than one A/R Contract. Why would you want a second contract? You might sell a monument before or after the service and want to bill for it separately. You might want to keep the items that had been prearranged on one contract, and use a second contract for additions purchased at the time of need. You might have items that you want to bill to another funeral home instead of the family. You might have had multiple preneed contracts funded differently that you want to keep separate on the at-need side. We are sure you can think of even more reasons for multiple contracts.
The process of creating the Funeral is the same in each module. However, when you open the Funeral in A/R PRO, you will be brought to a screen which lists all of the Contracts for that deceased.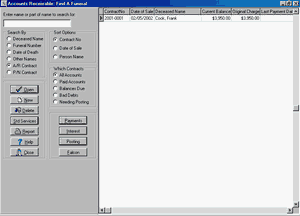 Notice that in the above illustration Search By has been changed from Deceased Name to A/R Contract. You may chose how to Search by clicking on your selection. Searching By A/R Contract reveals information and choices that are specific to the A/R module.